Free Shipping!  Please note that shipping time is about 3 weeks due this being made to order.
Cruisers are some of the most comfortable bikes to ride.  Their comfort is accredited to it's laid-back style frame, sit-up straight riding position and relaxed shoulder level arm height. We take this already comfortable ride to the next level with our electric cruiser, the Biktrix Stunner.
With an incredible range of more than 60 km (37+ miles) on a single charge, the Stunner will get you where you need to be and more.
The 750W rear hub motor has got more power than most electric bikes in the market today.
Comparing Frame Styles:
Black comes with High Step (Step Over) Frame.  Cream comes with Low Step (Step Through) Frame.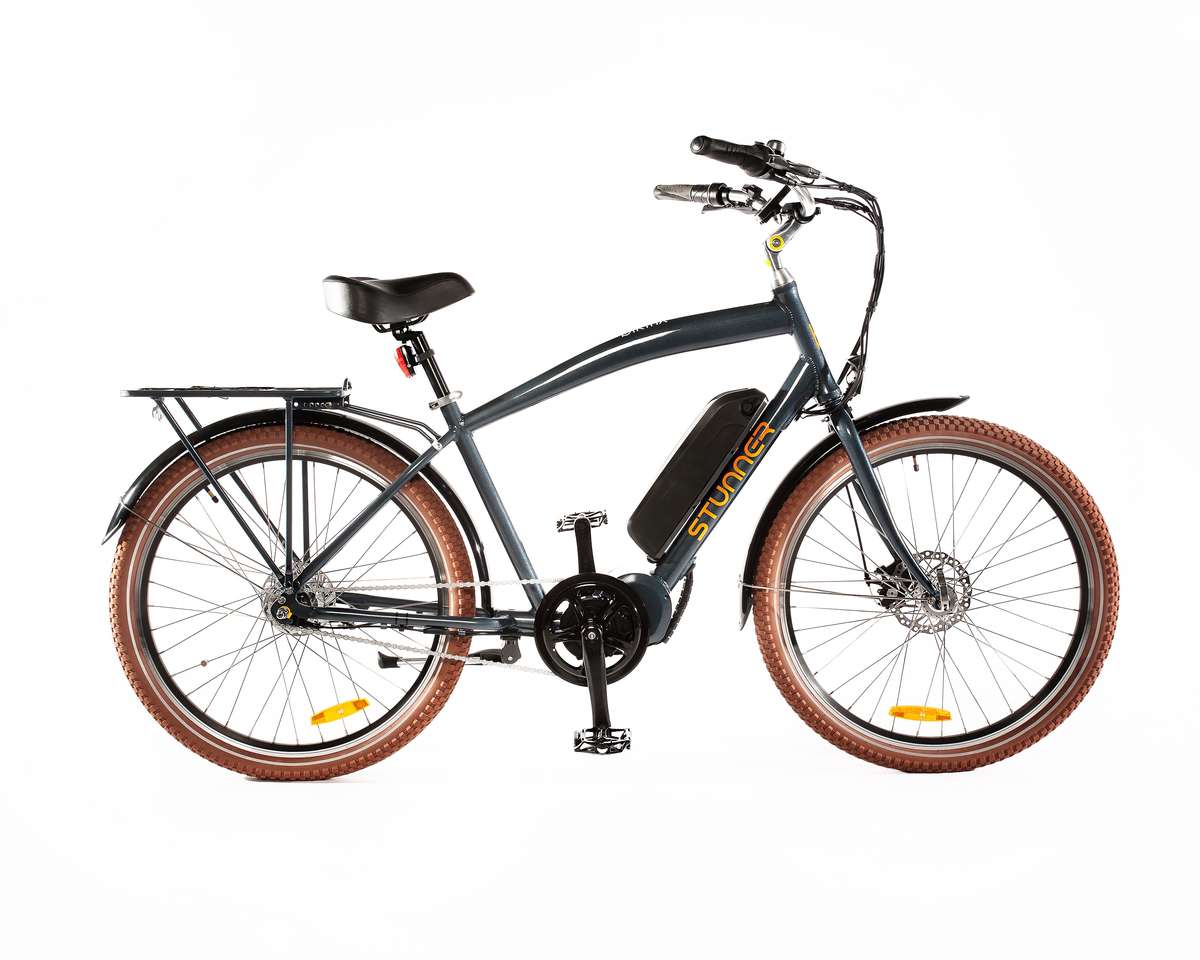 High-step or Step-over frame brings the classic cruiser style to the most comfortable riding position.  This version of Stunner is popular with men and women who don't mind swinging their leg over the seat to hop on and off the bike.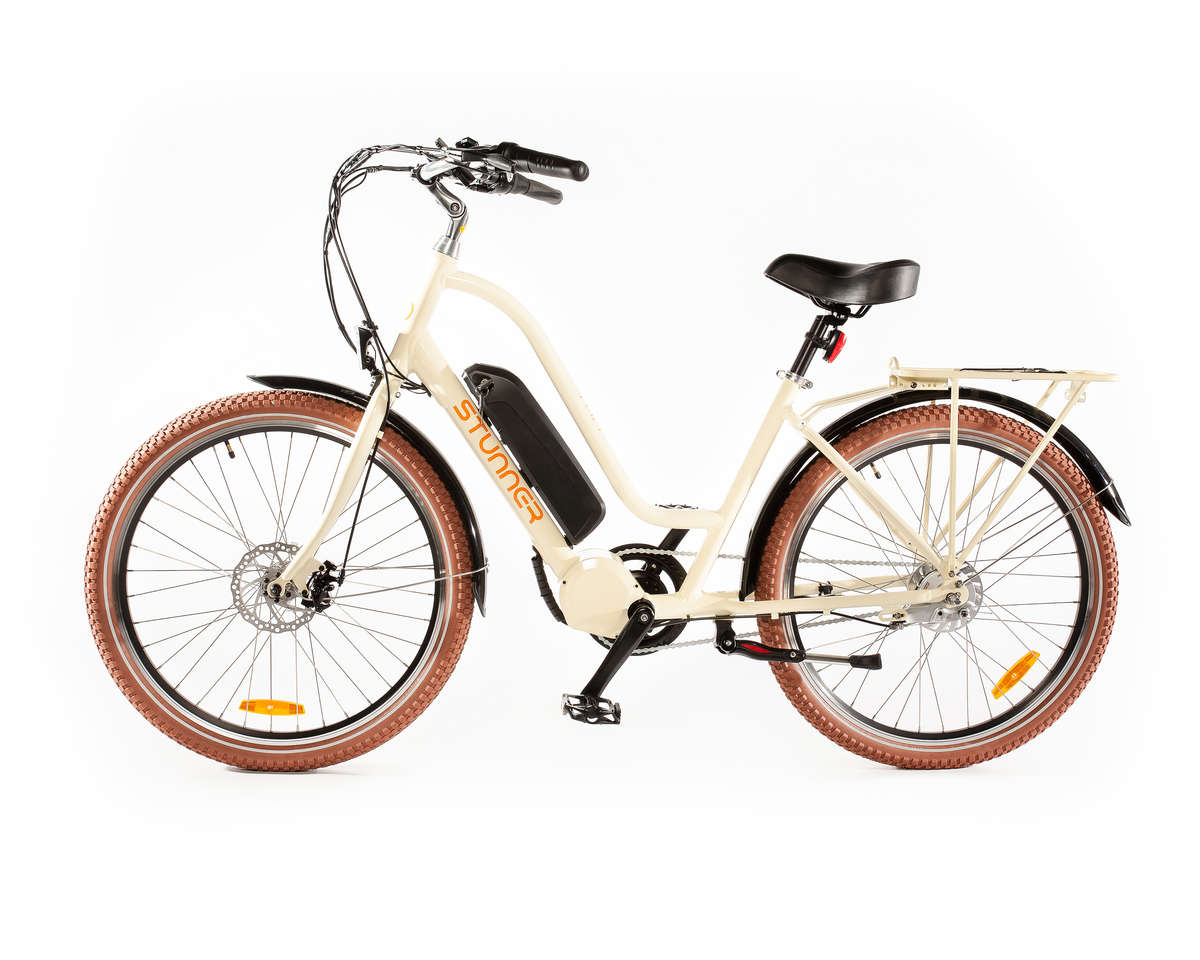 Low-step or Step-through frame is easy to step in and out of.  This version of the Stunner is popular among men and women who don't want to swing their leg up and above the rear rack and seat to hop on and off the bike.
Comparing Motor/Battery options (look in dropdown above to make your choice):
48V 750W motor with 48V 11.6Ah battery
Max Speed: 28mph
Range: 30-40 miles (mixed use PAS+throttle)
Battery Weight: 8lbs
On-demand throttle and 2A charger included
48V 750W motor with 52V 14Ah battery
Max Speed: 30mph
Range: 40-50 miles per charge (mixed use PAS+throttle)
Battery Weight: 10lbs
On-demand throttle and 3A charger included
Why BUY the Stunner E-Bike?
Incredible range of more than 60km (37+ miles) on a single charge, getting you where you need to be and more
750W mid-motor has got more power than most electric bicycles in the market today 
 See how easily you can assemble it in this video!
The Biktrix Stunner after 4500 miles.
A 91 year old man is able to ride the Stunner Step Through electric bicycle!
The original video that first launched the Biktrix Stunner in 2015!
Product Specifications:
Fully loaded weight | 50 lbs (22.67 kg)
Motor | 48V750W Bafang
Battery | 48V 11.6Ah/14Ah/17Ah/21.5Ah
Battery weight | 7 lbs (3.17 kg)
Motor weight | 8.5 lbs (3.85 kg)
Frame types | High-Step (Charcoal grey), Step-Thru (Pearl white)
Frame size | 19"
Frame material | 6061 Aluminum
Frame colours | Pearlescent Creme, Pearlescent Charcoal
Fork | Suntour suspension fork
Attachment points | Fender Bosses, Rear Rack Bosses
Tube details | Schrader Valve
Gears | 5 speed internal hub Sturmey Archer gears
Shifter details | SIS Thumb Shifter
Pedals | Wellgo Aluminum Alloy Platform
Headset | Neco
Stem | Neco, Adjustable Angle
Brakes | Front and Rear mechanical disc brakes, Levers with Integrated Motor Inhibitor
Grips | Ergonomic, Rubber
Saddle | Velo Oversized Cruiser
Rims | Double Walled Aluminum, CNC Sidewall
Spokes | Black, Stainless Steel, 13 Gauge
Tire | Kenda, 26
Tire details | K-Shield Puncture Resistant, Reflective Sidewall Stripe
Accessories | Side-Mounted Adjustable Length Kickstand, Plastic Chain Guide, Bell, Independent LED Headlight and Backlight
Note that the bike battery is locked in place with the provided key. The key does not turn the bike ON/OFF. We do not keep copies of the unique keys provided with the bikes. Please have a key-smith cut a spare if you need. A set of 2 keys are provided with each bike.
FREE SHIPPING, NO SALES TAXES on ALL orders (lower 48 states)
SHIPPING
Once order is placed:
Order Confirmation Email:  You will receive an order confirmation email with all relevant details.  This means your order is in our system.
We Automatically Reach Out To USA-Based Suppliers:  We pre-authorize your payment method and prepare shipment. 
Ship and Deliver in 5-7 Business Days*:  We process charges to your payment method and ship and deliver in 5-7 biz days (from the shipment date), unless otherwise stated for specific products.  This is if the product is immediately available**.
Tracking Information Released:  We email your tracking information.  Feel free to also contact sales@upzy.com for a tracking update.
*Some larger products (ATVs, go karts, custom scooters, wheelchairs etc) will take longer than 5-7 business days as they require time to inspect and ship by special freight carrier.  A revised shipping ETA is usually found in these products' descriptions.  Please note we cannot guarantee shipping time and cannot be held responsible for unanticipated delivery delays by the shipping companies.
**Product not immediately available:  We will email/call you with an estimated time of arrival (ETA) and you can decide how to proceed.
Shipping Exceptions:
No Shipping to PO Boxes:  As our products tend to be large in size, we cannot ship to PO Boxes.
No Overnight or Expedited Shipping:  Unless otherwise stated on specific products.
International shipping (including Hawaii and Alaska):  Please refer here.
Pickup:  Some products, such as TaoTao, can be picked up directly from our warehouses at a reduced price.  These pickups do not fall under "free shipping", as they are not shipped but picked up by customers directly using their own transport.
Lift-gate Services:  We provide free lift-gate services on the majority of our larger products, however certain products are excluded.  For excluded products, the customer is responsible for any additional lift-gate charges.  Please email us for further clarification.
DAMAGES
We pack all products securely and reliably.  Sometimes the packaging may get dented in transit, but do not be concerned as the inside contents will still be intact.
Please inspect the product packaging when it arrives. 
Once the product is delivered and signed for, we no longer have the authority to file a claim with the shipping carrier (standard US shipping procedure). 
Anything thereafter will be treated as a return. 
In the rare instance the product inside is damaged, please do not worry as we will work with you to resolve the situation.  Any photo evidence can be sent to aftersales@upzy.com.
WARRANTY 
Any warranty with your product(s):
Please first email aftersales@upzy.com.

You may also contact the manufacturer/distributor.  Note that Upzy.com must be kept in the loop of any warranty procedures done. 
We try our best to resolve any issues in accordance with our and the manufacturer's/distributor's policies, however we cannot guarantee it will always be to the customer's satisfaction.  It is the customer's responsibility to work with Upzy.com to resolve any warranty/aftersales queries.
PRODUCT DISCLAIMER
Product pictures and specifications may vary with the actual product on occasion. 
Some products require assembly and possibly adjustments/modifications/minor fixes to function to the customer's satisfaction.  Those that require assembly will come with a manual or video resources. 
Professional assembly/expertise may be required (depending on the customer's experience and abilities).  Please note Upzy.com does not pay or reimburse for any labor/service costs if:
The product is taken to a professional
Customer decides to adjust/modify/fix the product themselves using warranty and non-warranty parts.
RETURNS
If you are not completely satisfied with your purchase:
Return Authorization Within 15 Days of Product Received:  Please email aftersales@upzy.com and we can arrange a return authorization. 
Product Must Be Unused and in Resale-able Condition:  Must be in original box (no damaged items).
Return tracking number:  Must be provided.  
Order Has Shipped, Buyer's Remorse Return or Refusing A Shipment:  
Buyer is responsible for return shipping and delivery (outbound) charges
Minimum 15% restocking fee,

 

unless the shipment comes visibly damaged.
Manufacturer's Return Policy:
Each manufacturers' return policy may vary and we ultimately adhere to their policy (they override ours).  You can contact us for further clarification first.
CANCELLATIONS 
Order Hasn't Shipped (Regular Products):  
Order less than $1000:  $25 admin fee per item when canceled.
Order more than $1000:  5% admin fee of order value when canceled.
Order Hasn't Shipped (Custom Build-To-Order Products):
Product in the process of building:  5% admin fee of order value when canceled, excluding discounts.
Product has finished building:  50% of original order value when canceled, excluding discounts. 
99% of our products are regular.  Exceptions are custom built-to-order products such as standing wheelchairs and certain electric bikes and recumbent trikes.
The admin fee accounts for the manpower hours used to prepare your product, which tend to be large in size.  If product is not in stock, you will not be charged this fee. 
REFUNDS
All refunds will be issued to the original credit card, Paypal account, or payment method account (Google Pay, Apple Pay) that was used.
Please allow 2-4 business days to process (standard processing times)
100% LOWEST PRICE GUARANTEE POLICY:
We work very hard to ensure we offer the LOWEST PRICES ONLINE.  We want you to feel confident you are getting the lowest price for your product compared to any other online store, and we will match their lowest price accordingly.
NO HIDDEN CHARGES:
The price you see is what you get.  We don't add shipping costs, sales taxes, oversized charges, or anything else.  Some companies advertise a much lower price, then sneakily add charges further in the checkout process.  We never do that.
Some Limitations:
It does not apply to prices for our own store bought at different dates.  We reserve the right to change prices due to fluctuating sale prices from our manufacturers.  Once purchased, you "lock" in that sale price.  If price for that same item in our store decreases tomorrow or at any future date, you will still be locked into your original sale price.
Promotions such as rebates and buy one, get one free offers are not eligible
The item must be in stock on the competitor website
The competitor must be an online store (it cannot be a physical retail store) and it cannot be the manufacturer's own online store
The website cannot be a discounter or auction website (eg eBay, Overstock, etc)
The competitor must be an Authorized Dealer for the product in question.  The product has to be genuine and cannot be a knock-off sold at a much lower price.
The Price Match Guarantee is for the final price after shipping and sales taxes.  A lot of online stores advertise a lower price but add on shipping charges and sales taxes in the checkout process, ultimately making their price higher than ours.  We never have hidden fees. 
If you purchase something from us and subsequently ask for a price match from another store, it has to be done within 5 days after purchase date.
Feel safe knowing you are purchasing the best possible price online from Upzy.com.